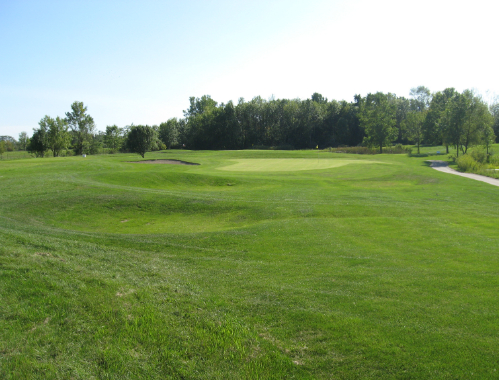 The Links at Rolling Meadows
The Links At Rolling Meadows is a par 27, nine hole course, playing at 1200 yards from the white tees. Golfers here enjoy a walk through 9 beautiful par 3's each with there own unique design and difficulty. In fact, all nine holes bring water and lateral hazards into play with an errant tee shot or poor club choice. Truly this golf course offers something for all handicaps, with the shortest hole playing at 97 yards and the longest at just under 160.
Designed by W. Bruce Matthews, III, ASGCA, this nine hole course opened in 2001.
| Hole | 1 | 2 | 3 | 4 | 5 | 6 | 7 | 8 | 9 | In |
| --- | --- | --- | --- | --- | --- | --- | --- | --- | --- | --- |
| White Tees | 157 | 141 | 143 | 108 | 97 | 153 | 126 | 150 | 132 | 1207 |
| Handicap | 1 | 5 | 4 | 8 | 9 | 2 | 7 | 3 | 6 | |
| | | | | | | | | | | |
| Par | 3 | 3 | 3 | 3 | 3 | 3 | 3 | 3 | 3 | 27 |
| | | | | | | | | | | |
| Handicap | 1 | 5 | 4 | 8 | 9 | 3 | 7 | 2 | 6 | |
| Red Tees | 129 | 109 | 110 | 85 | 70 | 112 | 98 | 116 | 99 | 928 |